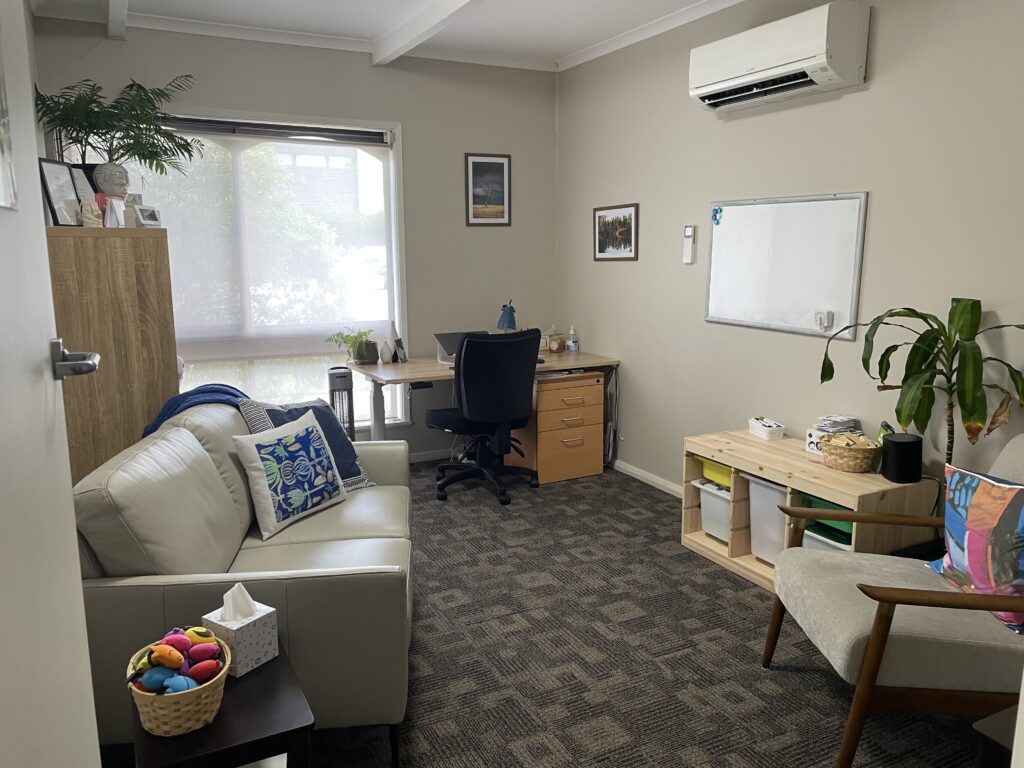 You do not need a referral to see a psychologist, you can self-refer by simply contacting the clinic to ask about a first appointment. However, with certain types of referral and funding schemes, you may be eligible for a rebate of part of the session fee.
Online portal: Current clients only
Click on the link below to manage your appointments:
https://my.powerdiary.com/clientportal/ygp
If this is your first time using the portal, use the email address the clinic has on file for you and click 'reset your password' to create your account. For more detailed instructions see the client user manual (Client User Manual).
Please note high-demand appointment times (e.g., after school) are not available to be booked using the portal, and must be requested with the practice.
This service is only available to existing clients.
Your psychologist will discuss the fees related to your service before your first appointment. Yellow Gum Psychology has lower fees than the recommended Australian Psychological Society rate, and we do this to provide the best and most affordable care we can. It is important to consider the costs of treatment with the costs of not undertaking treatment. Good mental health and healthy relationships are a vital part of life. Investing in your mental health can prevent many of the downstream challenges that arise from poor mental health.
Fees are payable at the time of the appointment. Yellow Gum Psychology can accept payment using cash, EFTPOS, Visa or Mastercard, and in most cases Medicare rebates (if eligible) can be processed on your behalf at the time of payment.
Medicare:
If your GP has completed a Mental Health Treatment Plan, you may be eligible for a significant rebate from Medicare. To access this type of referral, visit your GP (or psychiatrist or paediatrician) who will assess whether a referral under this program is appropriate for you, given your health care needs and circumstances. You will need to book a long consultation with your GP to discuss your concerns and allow them time to make the appropriate referral. 
Depending on your referral, you may be eligible for a rebate for up to 10 of your sessions (per calendar year). This is based on government funding and may or may not be representative of how many sessions you may need. We aim to provide you with thorough treatment in line with evidence-based approaches. Sometimes this will be possible within the number of sessions funded by Medicare and sometimes you may require additional sessions.
Private Health Insurance:
Your Private Health cover may also include rebates towards a consultation. The number of rebated sessions and rebate amount will depend on the type of cover you have.
NDIS:
Yellow Gum Psychology is able to provide services under the National Disability Insurance Scheme (NDIS) for clients with self-managed or plan-managed plans. Psychologists at Yellow Gum Psychology are not registered NDIS providers, so clients are unable to utilise NDIA-managed funding for our services.
We require notice of 48 hours (2 business days) to reschedule or cancel a session without occurring any fees. This policy is in place to allow us to offer the allocated time to another client who may be waiting for an appointment. It is nearly impossible for a psychologist to book in a new client at very short notice. A late cancelled appointment is a loss to three people: The client who is delaying their therapy progress; Another client who is on the waiting list to see the psychologist; and the psychologist who has spent time preparing for the session.
Our clinic policy is as follows:
A minimum of 48 hours' notice is required to cancel your appointment and you will not incur a fee, unless there are special circumstances as agreed upon with your psychologist. If your appointment is on a Monday you will need to contact the clinic by 3pm Friday to cancel your appointment without penalty.
Cancelling an appointment between 48 and 24 hours incurs a fee equivalent to 50% of the consultation fee.
Cancelling an appointment within 24 hours incurs a fee equivalent to the full consultation fee.
Missed appointments (nonattendance) without any notification will incur the full consultation fee.
All cancellation fees are required to be paid in full prior to the start of any future appointments or provision of other services.
Please note that Medicare and private health insurance do not cover missed appointments or cancellation fees.
It is okay if you wish to end therapy, however, we request that you discuss this with your psychologist rather than not attending.